Hashtags are an essential part of any digital marketing strategy. Every marketer knows the value of this small, but impactful feature.
Hashtags can increase the reach and engagement of your content. They are an extremely effective way to increase traffic on Twitter, Instagram, and other social media platforms. To help you utilise this important marketing feature, we have put together 5 ways to effectively use # in your Social Media Marketing, a guide that will help you build a successful social media presence.
1. Keep it relevant
When choosing a hashtag it is essential to make sure that you pick something people are searching for and can easily remember, not just a random hashtag.
There are millions of hashtags scattered on social media, you can truly create any hashtag you want, there are no restrictions. However, using a hashtag that is unclear and generic will probably not give you a good result, as your target audience will probably not be searching for it.
Your hashtags should be short, precise, and relevant. It should give your audience a clear idea about the topic of the post and be aimed specifically towards your desired customer.
The key is finding out topics that are of interest to your desired audience and simply use the hashtags that will reach them.
2. Always use trending hashtags
A trending hashtag is a hashtag that has become very popular. It might be hashtags about recent celebrity news everyone is talking about, could be about a National Day that is trending or simply anything that is of particular interest currently on the day.
Using a trending hashtag in your content can get your message across to a much larger audience. More people can see your posts rather than just your followers. So when you see a trend that relates to your post, make sure to use that hashtag.
You can always check on any social media platform the 'Trending Hashtags' for the day, specially on Twitter as it can be seen below.
If you are able to, predicting what will be trending the next day will allow you to produce a post that will be relevant to the current movement. This way, more people will re-share it, increasing your overall brand awareness. A useful tip is referring to the national day calendar to plan ahead for posts, as they are sure get more traction.
3. Don't overuse hashtags
Even though the use of hashtags is useful to increase your brand awareness, it is key that you do not overuse them. By using too many hashtags on your post it will appear messy and as if you are not sure on how to use them.
It is advisable to use between 2-5 hashtags per post depending on what social media platform you are using. One of these hashtags should always be your own personalised hashtag for your company, allowing your followers to keep track of your posts.
4. Research before using
When using a hashtag, make sure you check where it has been previously used to ensure it has no negative connections to it and that you will not be sending the wrong message. Also, ensure that you don't choose a hashtag that another brand uses the hashtag specifically for their promotion, as that will confuse your audience.
When you use hashtags correctly, they help create conversation, increase brand awareness, and ultimately lead to a sales spike. So keep your audience in mind while figuring out the best hashtags.
You always want your tweet to stand out with trending hashtags, but tweeting on a negative hashtag might not be the best way to do it.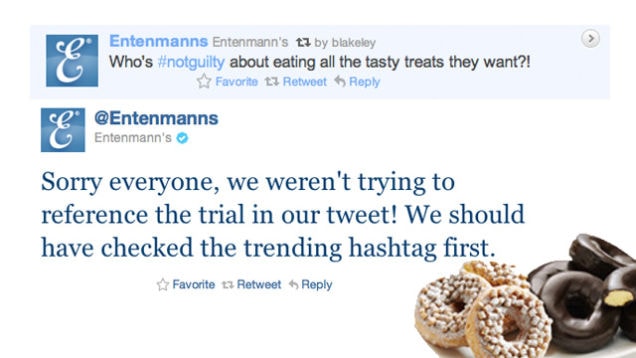 This is an example of a Hashtag #fail, US baked goods company Entenmann's used the hashtag #notguilty, which was simultaneously being used by commentators discussing what had happened on the same day – major US criminal was found not guilty of murder and manslaughter. They received criticism for this incredibly inappropriately timed #notguilty tweet.
5. Link Hashtag to your Business
Hashtags have the ability to connect your brand with your desired topics that are associated with your business.
Use of the right hashtags will drive new viewers to your social media and allow you to engage with them. The more relatable your hashtags are to your business, the more suitable, potential clients you will reach with them.
As seen below, KFC has successfully done this by using a trending hashtag that has a direct link and is highly associated with their business.
It is important to remember that you should not use hashtags while responding to a costumer, as that is both unprofessional and unnecessary. Whether it's a re-tweet or a reply, avoid using these characters when they are not required.
You need to carefully choose your hashtags to ensure they are unique and tailored towards your business, as random hashtags will not be effective.
—–